What docuteam developers produce is tested and used by docuteam archivists. This is what makes docuteam tools so practical. This is how we have become a leading provider, not only among archives, but also among libraries that need to take care of the preservation of their digital assets. In 2023, we will additionally launch an archive information system (AIS) according to the new RiC (Records in Contexts) standard and a virtual reading room. This means that the software range covers the entire OAIS model for digital archives. The modules can be used individually and combined as desired, also with third-party products, for example with another archive information or catalog system.
Overview
Our modular software solutions cover all aspects of archiving according to the OAIS reference model. Thus, they are able to cover the wide range of different needs of our customers. A documentation of the different applications can be found at docs.docuteam.ch.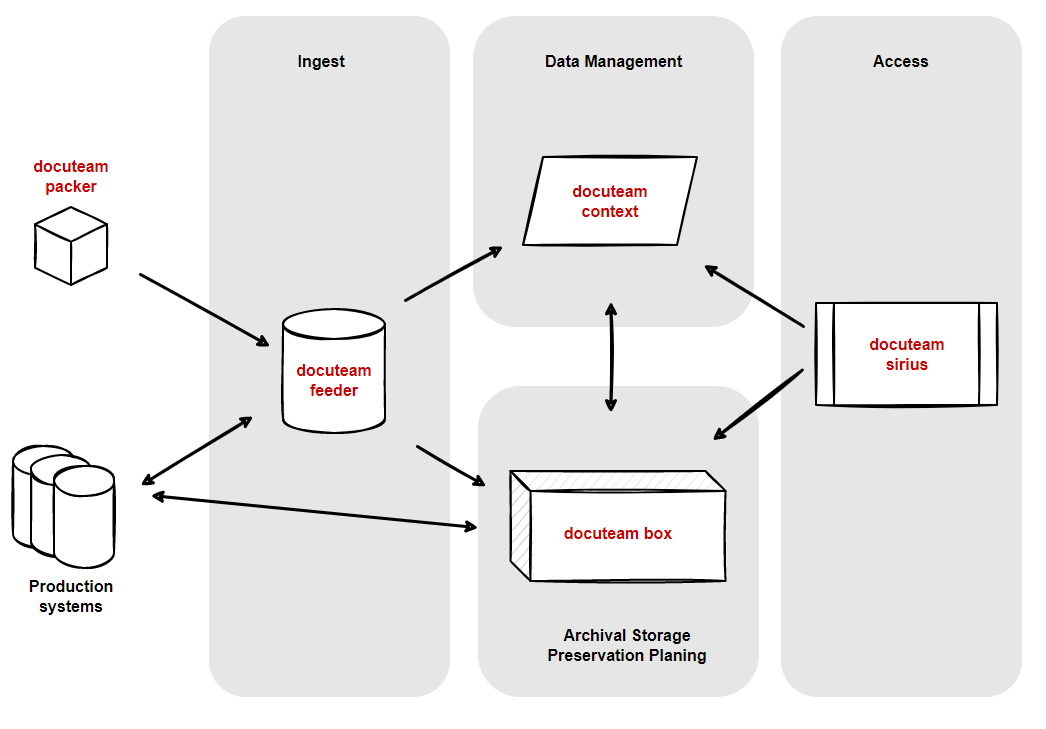 docuteam box encloses the digital repository and is thus the heart of a system for digital preservation. docuteam box serves as an application for the administration of the repository as well as a central machine interface (API). docuteam box offers a graphical user interface, which is aimed at specialized archiving personnel.
Fedora Commons is used as repository software. Complex queries over all metadata and structures are enabled by a triplestore. Both primary and metadata are stored according to the Oxford Common File Layout (OCFL) specification.
Part of docuteam box is the so-called "cockpit", which provides an insight into the most important metrics of the repository content.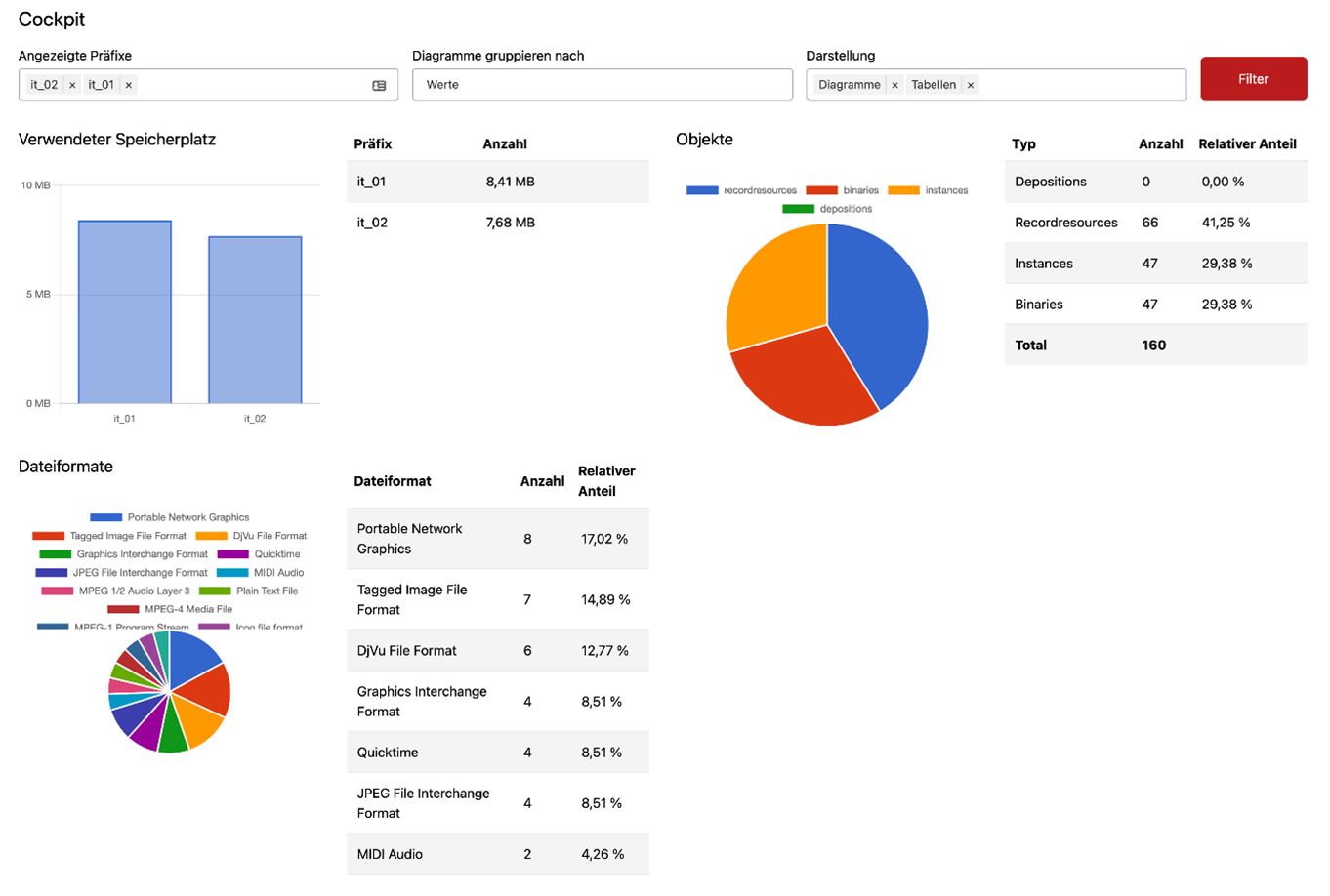 docuteam feeder
docuteam feeder is a web-based ingest tool to migrate, validate, modify and finally store data in the repository in a controlled way. It provides a graphical user interface for the creation and execution of workflows. These workflows can be individually composed from different building blocks according to the respective needs.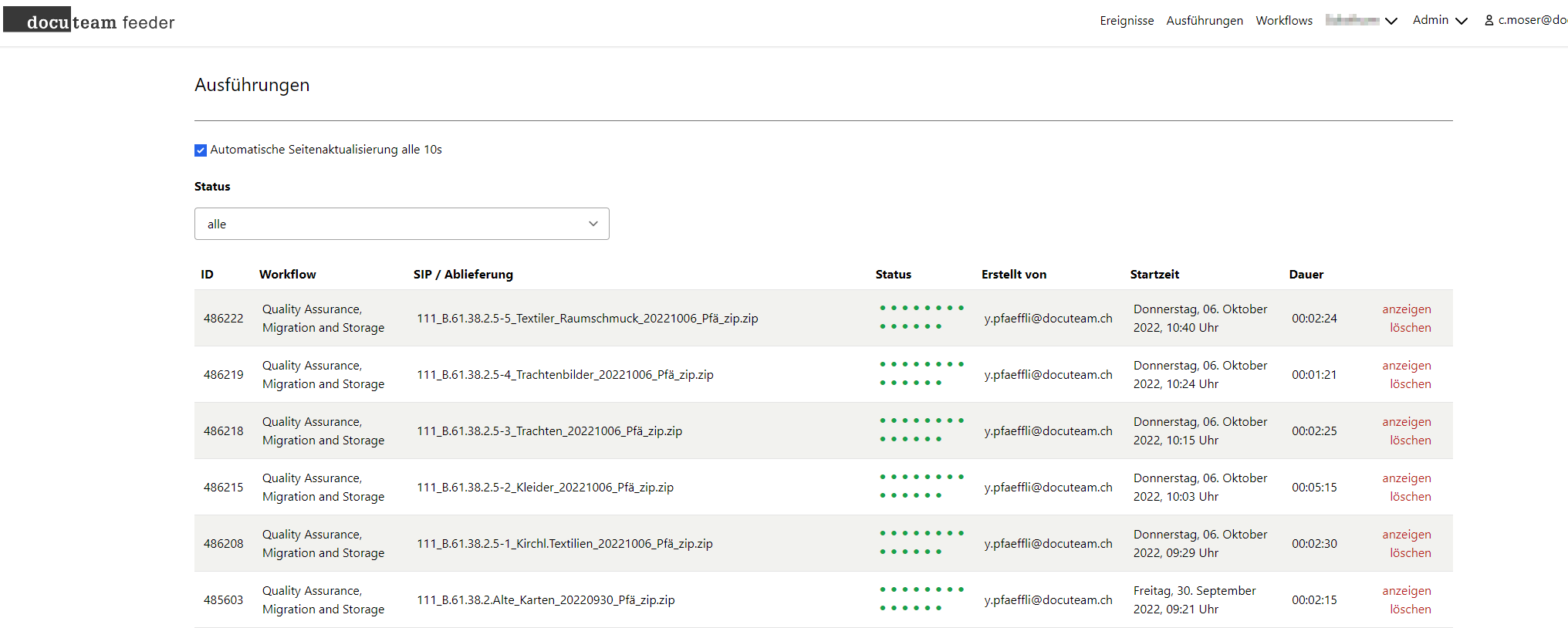 docuteam feeder is multi-client capable: Different organizations can configure, administer and use the tool independently of each other.
docuteam feeder can be operated manually, but also offers the possibility to automate workflows.
In addition to the web interface, docuteam feeder also offers a machine interface (API) to initiate and monitor processes in docuteam feeder and thus communicate with external systems.
docuteam packer
docuteam packer is an application with which so-called Submission Information Packages (SIP) can be manually created, displayed, searched and edited. The files and directories contained in a package as well as the descriptive (EAD) and technical (PREMIS) metadata are displayed and can be modified directly in docuteam packer. All changes to the files and directories are thereby registered as PREMIS events.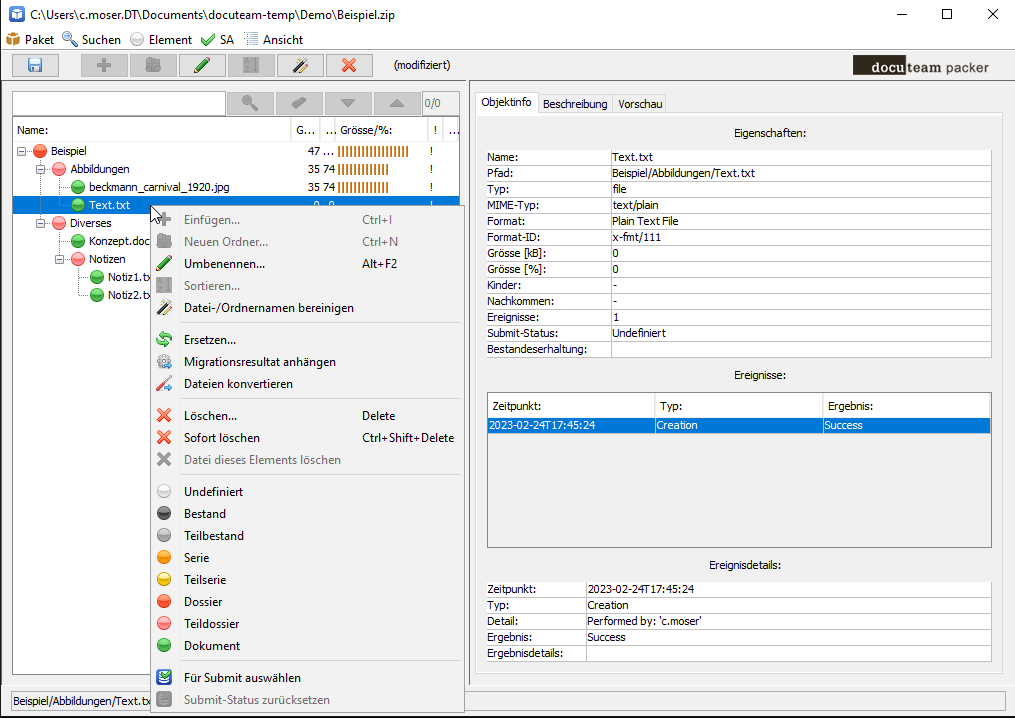 docuteam context
The archive information system docuteam context is used to manage metadata. docuteam context is web-based and the first archive information system based on the new metadata standard "Records in Contexts" (RiC).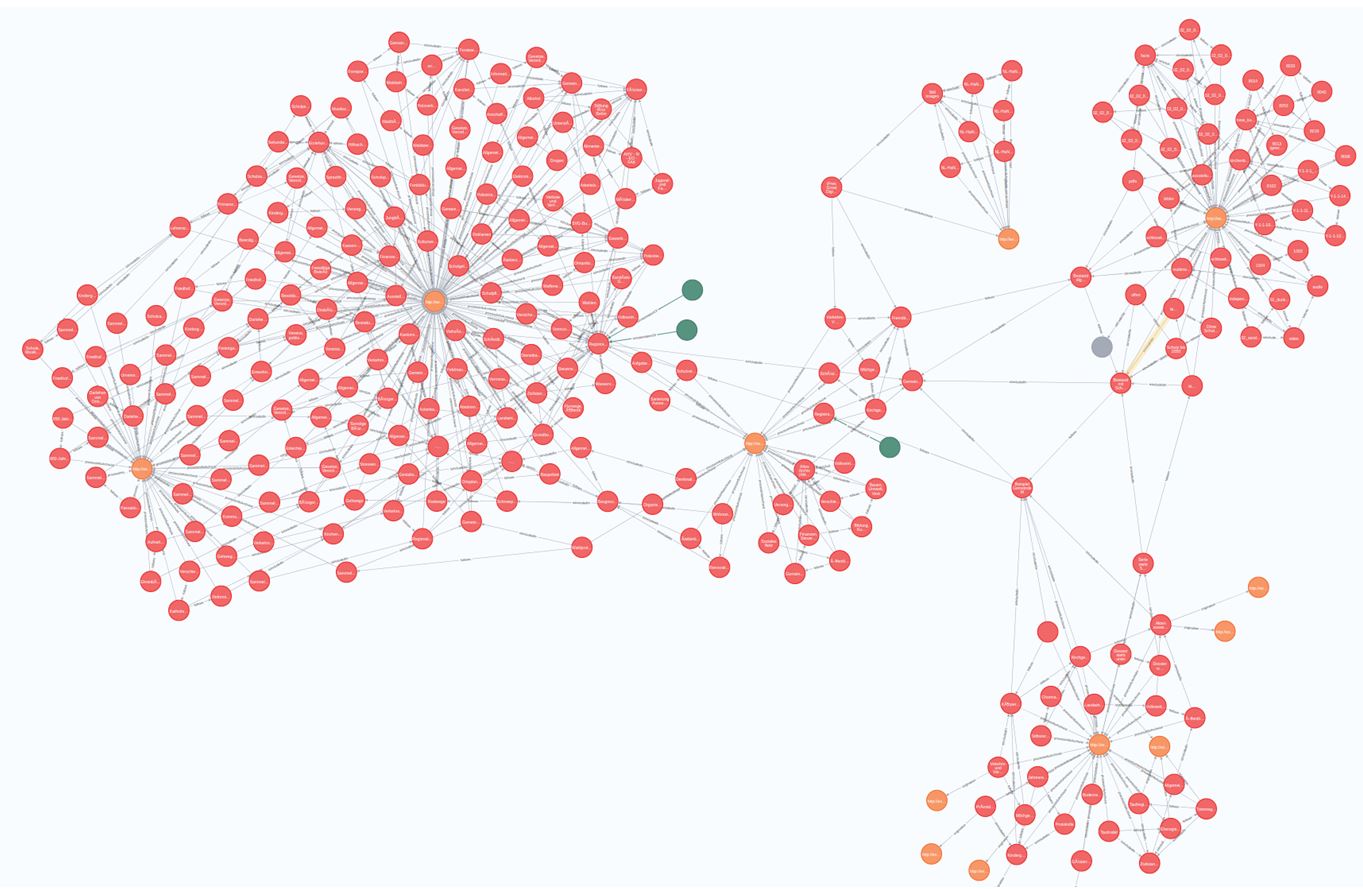 The system is characterized by great flexibility. This is made possible by comprehensive configuration options. The RiC-based data model ensures coherent and standards-based data management despite the individual configuration.
During development, we attach great importance to the fact that the application allows efficient work, be it through different views, through powerful mass processing functionalities or through convenient import and export options.
docuteam sirius
Publish digital archival material: this is made possible by docuteam's virtual reading room. Your archive gains visibility and reach.
docuteam access makes the digital copies available in your archive and enables research via all metadata as well as via the full text of the archived documents.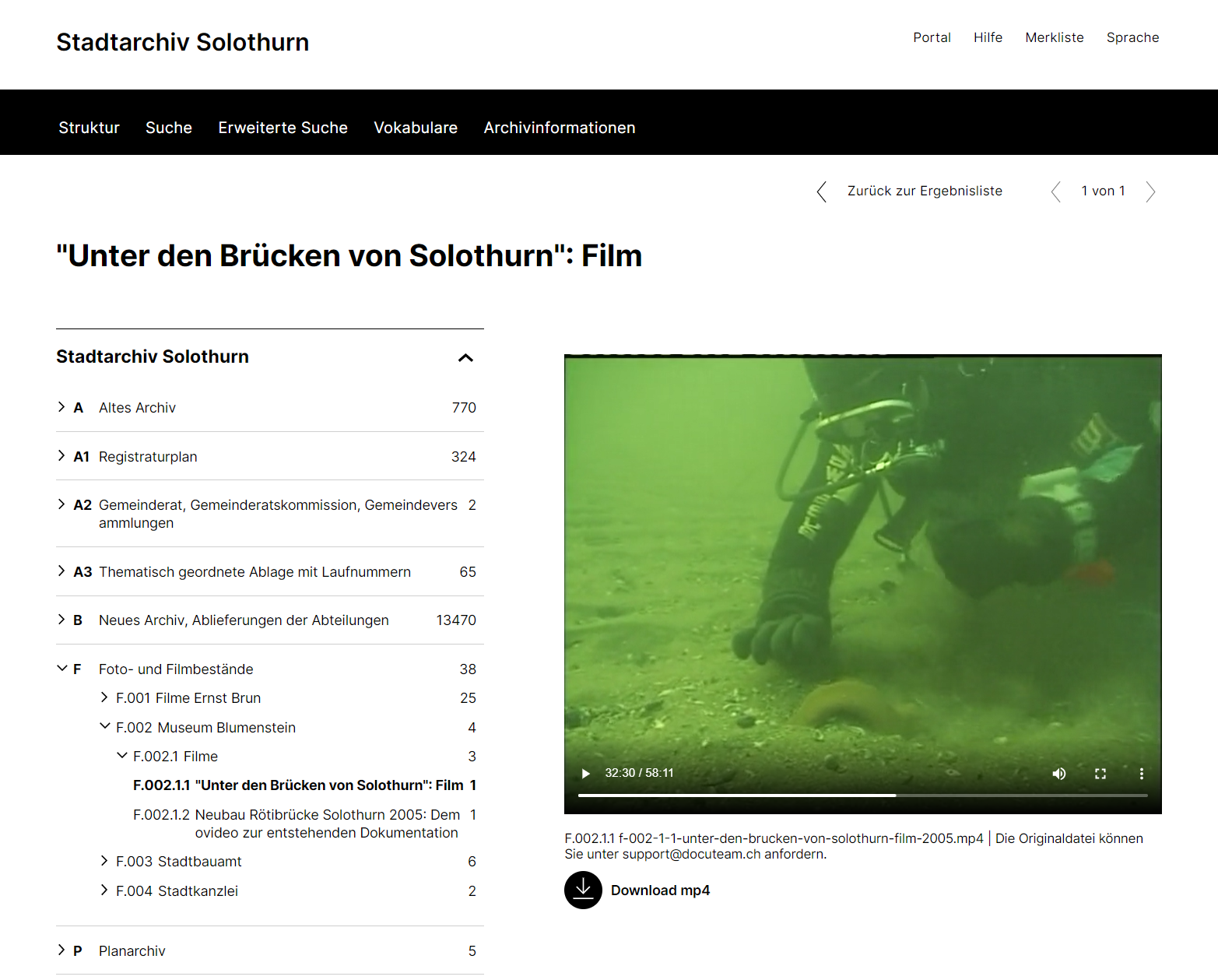 Various access and search options are available to the user:
Browsing via the tree structure
Simple search with facets
Advanced search
Access via vocabularies and authority data
Archivinformationssystem AtoM
Next to docuteam context we also offer AtoM as an archive information system.
AtoM stands for "Access to Memory". It is a web-based archive information system that can be used for managing data as well as for publishing it. AtoM is based on the international archive standards ISAD(G), ISAAR(CPF), ISDF and ISDIAH and is available under an open source license. AtoM is far less expensive to purchase and operate than commercial tools with similar functionality. Because AtoM is an open and standards-based system, it can be connected with other components for digital preservation, that docuteam offers. AtoM has a large user base worldwide. The tool is used in very different archiving institutions.
AtoM is not developed by docuteam, but by the Canadian company artefactual. docuteam is system integrator of AtoM and has many years of experience in operating this application. Our AtoM services include hosting as a service, installation and parameterization on your own infrastructure, training, data migration and maintenance work.
Roadmap
docuteam is developing its own products continuously. Central to this are the needs of the users, who exchange ideas in the "docuteam User Group". But also the archivists of docuteam use these tools intensively and thus contribute significantly to efficient and qualitative implementations. The applications are open source/source available.
In the current year the following big news are coming:
We publish the first version of docuteam context, our own Records in Contexts (RiC) based archival information system.
As a digital reading room, docuteam sirius will enable publication and research.
We are switching to the latest version of Fedora Commons for the repository. This will ensure the long-term preservation of digital records while enabling the use of modern technologies (Linked Data) as well as standards (RiC).
Every spring, an annual release will be made, which in 2023 will already contain the first additions for docuteam box (search) as well as enable sorting and searching also in docuteam feeder.
In the second half of the year, we will also implement containerized operation for the ingest process.
Also for the coming years we are not running out of ideas and we are aiming for the following major implementations:
A web-based submission tool with support for simple metadata.
We expect great interest for docuteam context and already anticipate requests for more extensive functions. An integration of docuteam context with our Fedora-based repository is also planned.
The current SIP standard (Matterhorn METS) needs various additions, both for new standards and concepts.
Building on the modernized repository, we will be able to extend preservation functions.